biography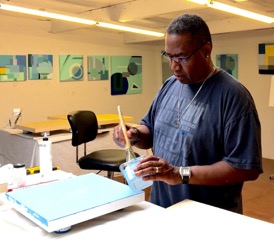 Randy Coleman is from Beaver Falls, a small town outside of Pittsburgh. He left Western Pennsylvania to attend Yale University as an undergraduate, followed by graduate school at Syracuse University and law school at Georgetown University. He remained in the nation's capital, pursuing a career in telecommunications law. He and his family have enjoyed spending summers on Martha's Vineyard for many years.
In 2003 Randy enrolled in classes at Washington's Corcoran College of Art + Design, exploring a passion for art he'd felt since childhood. Focusing on abstract painting with acrylics, he was awarded a scholarship for exemplary talent in painting. Randy retired from law in 2005 and devotes his full-time energies to art.
After relocating to Naples, FL, Randy works in a loft at Rosen Gallery and Studios in the Naples Art District. He has exhibited his work in galleries in Washington, DC, Maryland, Florida and on Martha's Vineyard, as well as in a prestigious corporate art event curated on behalf of Capital One Bank in the Washington area. His work is included in private collections as well as in the permanent collections of Capital One Bank and the Duke Ellington School of the Arts in Washington, DC.